A Rare Gem
Northern Territory Fossicking Lease
For Sale
For more information please contact:
Raymond (Doc) Doherty
mefgord@live.com
0437 010 648
Title ID: ML30183 – view on NT Strike
Commodity: Opalite
Location: Fergusson River, NT
Effective Date: 19/12/2013
Expiry Date: 18/12/2023
Title Area: 30 Hectares
Ownership: 100%
Reports Available: Yes
Data Available: Yes
Hand Specimens: Agate, opalite, chalcedony, chert, quartz, granite, scheelite, jasper.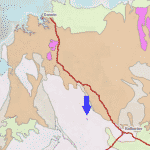 A sedimentary opalite fossicking project for sale that has attracted geologists from all corners of the globe.

From those hunting opals for lapidary purpose to those wanting an understanding of the deeper volcanic geology through exploring the exposed dormant hydrothermal fissures and zones of mineralisation for gold, this is an exciting project for acquisition for genuinely interested parties.

This lease has been used over the years to run fossicking and panning tours and is held under 100% ownership by a single party. The deeper geology is waiting to be explored with surface sample assays producing enticing results.

Located 60Km southwest of Pine Creek and accessible from the main highway and tracks via 4WD and foot.


Disclaimer: This document includes information provided by third parties. This content is general in nature and is for information purposes only. Australian Mining and Exploration Title Services (AMETS) makes no representation about the veracity or accuracy of information provided by third parties. You must rely on your own due diligence before proceeding and you are advised to seek independent professional advice as necessary.